Looking for a Master's Degree designed for Tech Savvy Teachers?
In Fall 2017, California State University, Northridge will start the 7th cohort in Master of Arts in Education with a specialization Computers in Education Technology.

The MA program in Computers and Educational Technology prepares teachers, technology coordinators, and software developers to implement current technology tools in education, and to evaluate future technologies as they emerge. The MA cohort provides an opportunity to study as part of a community of educators for the entire program.

The program is targeted for middle and high school teachers but often includes students from elementary schools, higher ed and industry as well. This diversity adds more perspective to our discussions and expands all of our knowledge about the different applications of educational technology. Our graduates have gone on to teach and support education at universities and schools all over the world while others continued on for their doctorate.



Program Features:


Current theory and best practice in technology education
Classes taken as a cohort of teachers
Two-year program; generally one night per week
Guaranteed enrollment in cohort classes
Courses to develop your

technology skills

and

knowledge

of how to apply technology in the classroom including:

Developing and using educational multimedia
Creating interactive software for learning
Developing educational websites
Assessing the impact of innovations in the classroom
Integrating technology into the science, math, English or social studies classroom
You will take courses as a cohort and have time for selecting elective courses that are relevant to your interests. Don't miss your chance - new cohorts start once every two years! The next cohort will begin in 2017.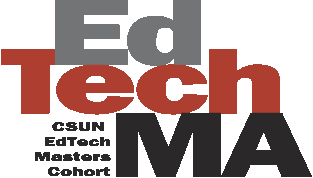 Educational Technology MA – Program Specs
Courses

Details

Semester 1:

SED 618 – Multimedia
SED 619 – Using the Web

Semester 2:

SED 600 – Education Research
Elective

Semester 3:

SED 690 – Ed Technology in K-12
Elective

Semester 4:

SED 610 – Education Leadership
SED 697 – Portfolio writing

Classes are offered on Wednesday nights (except some electives). The first class runs 4:00-6:50 and the second 7:00-9:50.

None of the classes are online, but many are "hybrid".

All courses utilize the latest tech tools (e.g. Moodle, Elluminate, Google Sites)

All students complete a masters' portfolio that includes a significant original project (thesis-like).

The EdTechMA Program is 30 units (10 courses) total.

In addition to the above classes, students must either take two additional classes – these can be classes taken for a credential program.

Electives include

technology in math, science, language arts, social studies,
software development (Flash)

Classes in other departments can be approved if they related to educational technology
Last modified: Friday, 11 November 2016, 11:56 AM